August 2014 – ICELAND – Almost two weeks after a swarm of earthquakes began to signal the restless movement of magma beneath the surface of Iceland's large Bardarbunga volcano, which is itself underneath the huge Vatna glacier, the first visible signs of an eruption were spotted in an area between Bardarbunga and the nearby Askja volcanic system. "An eruption started in Holuhraun north of Dyngjujökull (an outlet glacier on the north end of the larger Vatna glacier) at around 00:02," writes Iceland's Meteorological Office at 2:45 a.m. local time Friday. "It is a small fissure eruption and at 02:40 AM the activity appears to have decreased."Icelandic Police report that the fissure is 300 meters long and that no volcanic ash has been detected by radar so far.
The eruption tremors have been mild, which indicates that there is little explosive activity — rather the lava is effusive, meaning it is simply spilling forth from the fissure and pouring over the surface. A triangular section of airspace over the eruption site has been closed, but the country's main airport in Reykjavik remains open. "We don't see this having any effect on our flights," Icelandair press secretary Guðjón Arngrímsson told visir.is.  "At most there will be minor changes. This should not disturb international flights."Icelandic Coast Guard aircraft are scheduled to take off at 9:30 am Iceland time to conduct more observations. –Forbes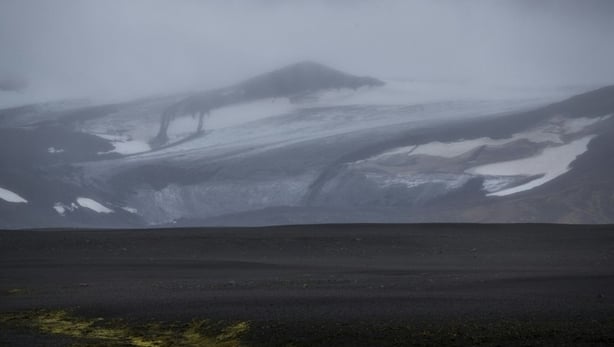 Alert level raised:
Iceland has raised its aviation alert over the nation's largest volcano to red, after the Bardarbunga peak began erupting overnight. A ban on air traffic around the country's largest volcanic system was also put in place, but the authorities said there were no signs of spewing ash. A major explosion at Bardarbunga, located under Europe's largest glacier, could signal a replay of the global travel chaos triggered when another Icelandic peak blew four years ago, creating a massive ash cloud across Europe. Iceland's civil protection office said the eruption began just after midnight and had created a volcanic fissure of up to a kilometer long. "No volcanic ash has been detected by the radar system at the moment. The earthquake caused by the eruption is small, indicating an… eruption without significant explosive activity." The alert around Bardarbunga was initially raised to red from orange on 23 August, which led to the closure of airspace in the affected area, although all airports in Iceland remained opened. The aviation ban was lifted the following day although seismic activity in the area remained high, with earthquakes shaking the volcanic system more than 20 times an hour on Tuesday alone.
One of the quakes measured 5.7, the most powerful in the area since 1996. Several hundred homes were evacuated earlier this week from the area, which is uninhabited, with only trekking cabins and campsites used by tourists and hunters in the summer months. Bardarbunga, in the southeast of the country, is Iceland's second-highest peak, rising to more than 2,000 meters. The eruption of Eyjafjoell, a smaller volcano, in April 2010 caused travel mayhem, stranding more than eight million people in the widest airspace shutdown since World War II. Iceland's most active sub-glacial volcano Grimsvotn erupted in 2011, forcing the country to temporarily shut its airspace and sparking fears of a repeat of the Eyjafjoell flight chaos. Iceland is home to more than 100 volcanic mountains, including some of the most active in the world. –RTE
contribution Tim